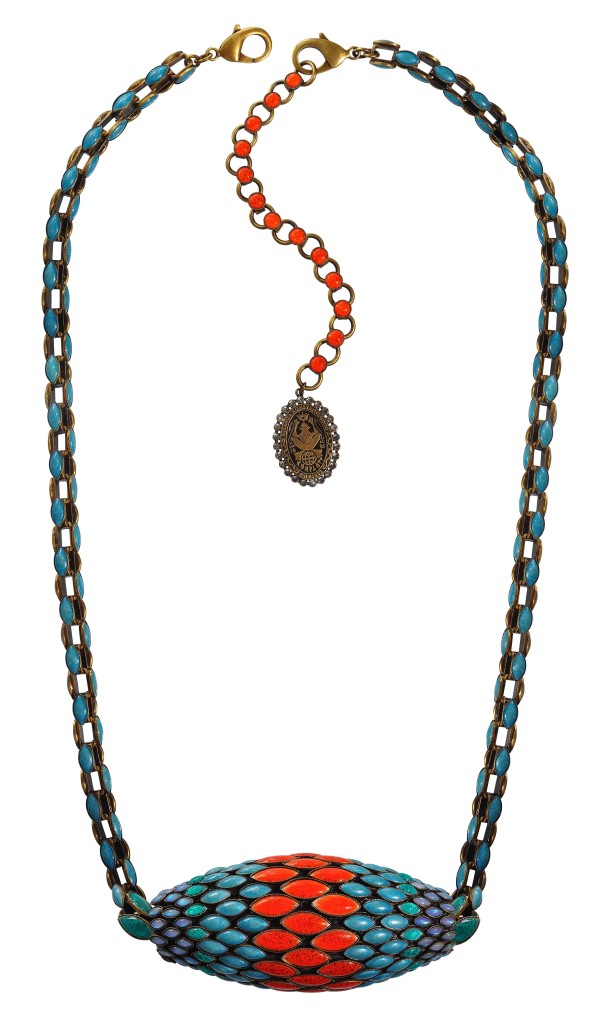 Miranda Konstantinidou ci racconta come ha preso forma la collezione Ethnic Mosaic, uno dei temi più importanti della collezione PE 2014!
"Ethnic Mosaic" è una collezione ispirata all'architettura e alle decorazioni nord africane. E' affascinante come i disegni, anche se geometrici e fissi, cambino di continuo a secondo del punto su cui si va a focalizzare lo sguardo. Ecco perché ho sempre amato questi disegni e li ho trasformati in gioielli. Quando ho cominciato a lavorare su questa collezione ho scelto le pietre nei colori originali di queste decorazioni. Poi però, mentre procedevo con la progettazione della collezione, ho cambiato direzione e ho scelto altri colori, semplicemente perché li trovavo più giusti. Queste pietre tra l'altro sono perfette perché adatte alla gioielleria di queste dimensioni senza renderla troppo pesante e indossabile, anche se i pezzi rimangono importanti.
I gioielli della collezione "Ethnic Mosaic" non sono per donne che non vogliono farsi notare. Sono carazzerizzati da una certa severità, imponenza e decisione. Si adattano a uno stile bohemian ma anche ad uno più formale e possono essere indossati da donne di tutte le età in qualsiasi occasione.
It can be worn well in a Bohemian style but also matches a stricter outfit. I believe "Ethnic Mosaic" is worn by confident women of all ages.
La collezione di bijoux "Ethnic Mosaic" fa parte della collezione primavera estate 2014 Miranda Konstantinidou, nei negozi italiani a partire da questa stagione.